Bat Surveys
Endangered bat surveys are one of the many services we offer. Our ecologists are qualified in the identification of U.S. bat species as well as many survey techniques including, mist netting, radio telemetry, harp trapping, pit tagging, transmitter application, emergence surveys, and acoustics. In addition, we conduct winter census and monitoring of bat survivorship with White Nose Syndrome. Staff members are also trained and certified in vertical climbing.


In 2012, Ecological Solutions expanded their natural resource services to include endangered bat surveys.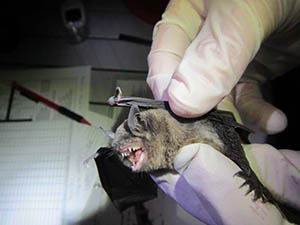 In 2013, Ecological Solutions completed 33 projects for the Georgia Department of Transportation. While there were no Indiana bats netted, 25 gray bats and 23 northern long-eared bats were captured within Catoosa, Cherokee, Bartow, Walker, Rabun, and Chattooga counties in Georgia. In addition, Ecological Solutions completed baseline bat presence/absence surveys for North Carolina Wildlife Resources Commission, Chattahoochee-Oconee National Forests, and Cheehaw Zoo. During these surveys, 137 bats were captured which included nine northern long-eared bats, a hoary bat, a Seminole bat, and three silver-haired bats.


In 2014, Ecological Solutions coordinated with the Great Smokey Mountain National Park and Georgia Department of Resources to help with winter hibernacula surveys.
Ecological Solutions participated in Bat Surveys in Alabama in 2015. Here ia a highlight video from Outdoor Alabama.